NetLearning, Inc. offers educational services over the Internet, otherwise known as e-learning. Established in Japan in January 1998, NetLearning now provides 7,558 courseware on a wide variety of educational subjects for almost any kind of business field. We offer comprehensive programs tailor-made to the various needs of a diverse range of companies, providing the ultimate strategic corporate learning programs. Our services cover a broad range, including but not limited to introductory consultation on new systems, provision of the Learning Management System (LMS), and courseware design, production, delivery and application. More than 4,793 companies and schools have incorporated NetLearning's services into their employee/customer/teacher/student educational programs.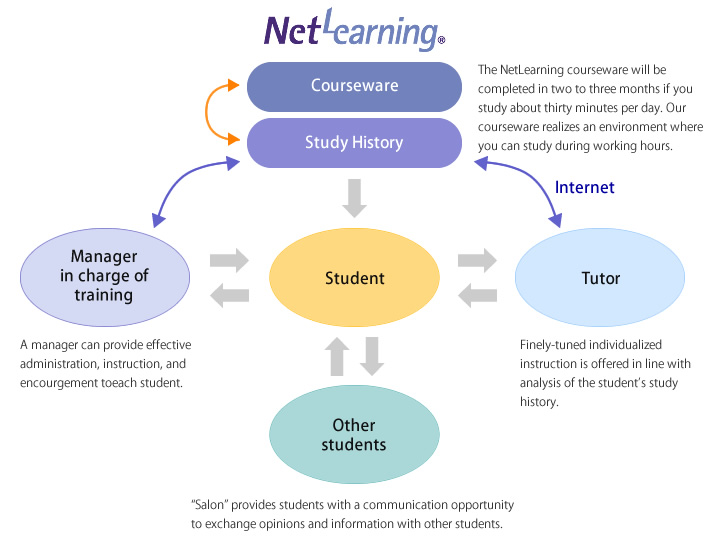 3 Key Success Factors of NetLearning Quality
1.Original Platform and Courseware
As the program is developed in-house, it is possible to flexibly handle the diverse needs of customers. We believe that development of courseware and the platform are indispensable to net education. Therefore we have decided to develop both by our hands.

2.Total Outsourcing Service
Since the application service provider (ASP) method is used, costs to purchase and maintain the server and software for the learning management system (LMS) are not required at all. Further, we provide total outsourcing service including operation of overall education as well as equipment.

3.One-to-One Tutorial Service
Advanced learning results are achieved by realizing educational instruction by assigned tutors. The same tutor provides instruction from the beginning to the end of the course. The number of tutor sessions is not limited. It is the task of tutors to lead students to course completion.

NetLearning® Courseware
NetLearning courseware is characterized by our independent development of high-quality contents and the tutor function that offers finely tuned support to each one of the students. Courseware can be freely combined according to the needs of your training.

■NetLearning Series■
Information Technology / Office (Desktop Applications) / Language study / Certification Exam Preparation / Microsoft .NET / Business Skill / Skill Assessment Test / Behavior Management / NetLab® / Embedded Technology / Practice exam series
NetLearning Customized Courseware
NetLearning aims to support companies that value employee training as a vital part of their corporate strategy, by providing courseware that meet their individual needs. NetLearning offers fully customized services in the fields of not only IT, but also finance and languages, as well as the customizing of business manuals for individual companies.

The systems employed at NetLearning, which have been exclusively developed in-house, facilitate learning methods that allow supervisors to monitor the progress of each employee more easily and at a much lower cost compared to traditional collective learning methods.

For any questions concerning anything from planning to development and implementation of learning curriculums, please contact our consultants by sending e-mail to sales@netlearning.co.jp .